National Network
The Brave New Voices National Network consists of organizations mutually invested in spoken word poetry as a vehicle to develop the cultural, academic and civic literacies of youth. Partner organizations reflect a diversity of grassroots, small and mid-size organizations. The Brave New Voice Network site allows individuals to view and connect with partner organizations around the world, access updated BNV resources and information, and get important BNV questions answered.
Register | Login | Take Survey
These videos document the diverse stories that comprise the BNV experience.
http://www.dailymotion.com/videoxizhrl
Louder Than a Bomb //
Louder Than a Bomb tells the story of four Chicago high school poetry teams as they prepare to compete in the world's largest youth slam. By turns hopeful and heartbreaking, the film captures the turbulent lives of these unforgettable kids, exploring the ways writing shapes their world, and viceversa.
HBO Preview //
A preview of the Brave New Voices 2010 Nation Slam Team Championships from LA.
HBO Behind the Poetry //
A behind the scenes look at the excitement and poetry of the Brave New Voices.
Young American Indians Find Their Voice in Poetry // New York Times
Native American students use their pens and voices when competing in the 2008 Brave New Voices International Youth Poetry Slam Festival in Washington, D.C. A group of fellow students at the Santa Fe Indian School, in New Mexico, are part of a growing program that has won a slew of local and regional poetry slams and twice earned an invitation to the festival… Read More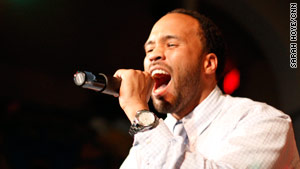 Expressing loss, anger through 'slam' poetry // CNN.com

Gregory Corbin — a social studies teacher and spoken- word poet — founded PYPM to provide a positive outlet for teens in his native Philadelphia who might otherwise fall through the cracks. Founded in 2006, the nonprofit youth poetry program — run entirely by volunteers — helps youth in Philadelphia discover the power of their voices through spoken word and literary expression… Read More
Young poets discover their voices // BBC

A group of teenage poets from Leeds, winners of the national youth poetry slam championship last year, have become the subjects of an award-winning documentary… Read More

Foundation101 //
If you've been involved in fundraising for any length of time, you know that it's important to balance your efforts to get foundation grants with ones to generate support from a broad base of individual donors. Having said that, when you are seeking grants, it's extremely important to do your homework. This article will teach you how to sift through thousands of grantmakers to identify the best prospects for your work.
_Download
Fundraising and Finance How to Speak the Same Language //
You would think that fundraisers and finance people in an organization would get along great. After all, they both speak in terms of numbers. But even these folks often need translators to help them understand each other and the needs of each of their worlds. This article offers some tools to build common understanding and improve communication between people focused on finance and those focused on fundraising.
Grassroots Fundraising Strategy Chart //
Here is a tool to help develop your fundraising plan for the new year. By understanding which strategies are good for what purposes, you can make sure you're using the strategy that is effective for your purpose—not just what you are used to doing.
How we Raise $500,000 Without a Development Director //
We have to live with the fact that we will not get it all done, but some things can't be overlooked. In a small organization with few staff, it is hard to farm the fundraising needs of the org out to a large development team. How do you do it? This article discusses effective steps to developing an effective development plan with few resources.
Social Media and Fundraising Our Great Experiment //
Social media are changing how we do everything: how we interact, how we think, how we buy. So, naturally, they are altering the way we give. As social media continue to change our world, nonprofits must do the hard but important work of adapting to these changes. This article describes how nonprofits can integrate social media to support fundraising efforts.
Ten Creative Ways to Pay for Training and Consulting //
Many Grassroots Leaders and their organizations could benefit from occasional infusions of outside expertise, energy, or motivation yet they often struggle to pay the regular bills. If you're a grassroots leader, how can you find the resources to pay for the training, coaching, facilitation, or consulting services you need?
What to do if you are in a Financial Crisis //
Every problem an organization has will eventually show up in its fundraising and financial health, leading most organizations to think that their problem has to do with their fundraising. However, difficulties with fundraising are often simply symptoms of a problem or part of a larger problem. To solve the problem requires correctly identifying it. It's important to remember that a problem is not a crisis. To avoid a crisis, or to deal with one, requires knowing this difference.

Calendar of Local and National BNV Events. Add your event now!


Help is on the way! Ask questions and view FAQ discussions